"How'd you know about them?"
— Hailstar to Brokenclaw in Gazelleleap's Tale, chapter 5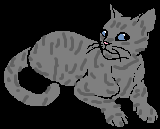 Hailstar is a lithe, sleek, large, gray, thick striped, tom. He has a long tail, a scarred pelt, and dark, deep blue eyes.
In the Original Series Edit
Gazelleleap's Tale Edit
In the prologue, Hailstar is seen taking in Gazellekit under Brightwhisker's influence.
He is described as having a fatherly figure in him, despite having kits.
Cherrygaze is complaining about her background and who would care for her, when Dawnheart silences her. Dawnheart then defends Hailstar wanting to take her in after Brightwhisker's idea.
Hailstar then leads the patrol back to camp with the kit.
Hailstar is next briefly mentioned in chapter two, where Gorsepaw and Gazellekit are debating over their warrior names.
Then in Chapter three, after Gazellekit gets tackled by Leopardkit and Lionkit; Sagedawn, Tawnyflare, Poppystep, and the two mischevious kits get taken into Hailstar's den.
Sight unseen, Hailstar delayed Lionkit and Leopardkit's apprentice ceremony another moon. Instead of becoming apprentices at six moons of age, it would be at seven now.
Hailstar is next seen on the high-rock with Dewyleaf and Dawnheart after Lionkit and Leopardkit go missing.
After Dawnheart assigns search parties, Wrenbranch questions what defense cats they have left at camp. Hailstar then says that there's him, Sagedawn and Poppystep, the elders, the medicine cats, and the kits.
After the search parties take off, Hailstar and Gorsepaw are described as taking 'proud guard' of the camp entrance. Gorsepaw argued to stay behind to guard and defend.
In Chapter five, after ShadowClan enters the camp, Brokenclaw mentions the lost kits.
Hailstar questions how he has knowledge about that event.
Gazellekit then wonders how Hailstar, Gorsepaw, the queens, and the elders can fight off seven majorly strong NightClan cats.
Hailstar is then mentioned to be on his last life when Gazellekit and Cheetahkit left to get the patrols and hlep from LeafClan.
Then Hailstar is seen when the kits return with help letting out a surprised yet relieved gasp.
Hailstar is then noted to be fighting Brokenclaw with the help of Leafdapple and Kestrelfire.
Then Hailstar is dead, killed by Brokenclaw. His body is mourned alongside Icetuft.
Brokenclaw then claims he only killed Hailstar in revenge for the death of Icetuft.
StormClan then has their vigil for Hailstar.
The next morning, Dawnheart recalls the death of Hailstar, and calls upon him to look down on Brightheart, the new deputy.
Interesting Facts
Edit
Hailstar is the oldest cat in the series so far, along with Tawnyflare, being born on the same day as den-mates.
Despite having a mate (Tawnyflare), the two never had kits, ignoring the fact how much Tawnyflare wanted them.
It is noted that Hailstar would've became an elder, but didn't due to the fact of his rank as leader.
Character Pixels
Edit
Coming soon.
Mate
Tawnyflare: Deceased, Verified StarClan Member
Coming soon
Ceremonies
Edit
Coming soon
Leader Info
Edit
Life Given by
Gift
How it was Lost
Unknown
Unknown
Unknown
Unknown
Unknown
Unknown
Unknown
Unknown
Unknown
Unknown
Unknown
Unknown
Unknown
Unknown
Unknown
Unknown
Unknown
Unknown
Unknown
Unknown
Unknown
Unknown
Unknown
Unknown
Unknown
Unknown
Killed by Brokenclaw

in Gazelleleap's Tale
Deputies
Edit
| Name | From | To |
| --- | --- | --- |
| Dawnheart | Before Gazelleleap's Tale | Gazelleleap's Tale |