"Everything is going to be okay. I am here for you and will always be."
— Cheetahpelt to Gazelleleap after Tawnyflare died in Gazelleleap's Tale, chapter 17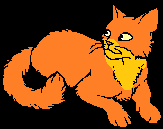 Cheetahpelt is a large, lean, short-furred tom, with a brown, yellow, cream furred pelt, tom, and yellow warm eyes.
In the Original Series Edit
Gazelleleap's Tale Edit
Coming Soon
Cheetahpelt original disliked Gazelleleap, under his sibling's influence, but they made up and became best friends, better yet mates.
Cheetahpelt was originally going to have a cheetah printed pelt, but this was changed so it would be easier to draw.
Cheetahpelt disliked his siblings but refused to show it in his life.
Cheetahpelt felt closest to Ashpaw, especially because he was the strongest of the second litter of their kits and he wasn't a female like the others, despite Mudpaw being male as well.
Cheetahpelt liked Gazelleleap the moment he first saw her, despite being rude to her.
Character Pixels
Edit
Coming soon
Mate
Gazelleleap: Deceased, Verified StarClan Member
Daughters
Brindleflame: Living (As of Gazelleleap's Tale)
Roseheart: Living (As of Gazelleleap's Tale)
Meadowfur: Living (As of Gazelleleap's Tale)
Cinderpaw: Living (As of Gazelleleap's Tale)
Rainpaw: Living (As of Gazelleleap's Tale)
Sons
Ashpaw: Living (As of Gazelleleap's Tale)
Mudpaw: Living (As of Gazelleleap's Tale)
Father
Wrenbranch: Deceased, Verified StarClan Member
Mother
Poppystep: Deceased, Verified StarClan Member
Sisters
Leopardflame: Status Unknown
Brothers
Liontooth: Status Unknown
Coming Soon
Ceremonies
Edit
Apprentice
Edit
Coming soon
Coming soon
Coming soon